Door Flood Barrier
Lakeside Flood Solutions are industry leaders in the manufacturing and installation of flood defences and demountable door flood barriers.  With our main objective of protecting protect homes and businesses most at risk of flooding, Lakeside have created the leading demountable flood barrier system. The Lakeside Flood Barrier provides a protective defence for doors, entrances, garages and driveways, creating the ultimate door flood barrier.
About Lakeside's Demountable Door Flood Barrier
Lightweight, quick and versatile, the Lakeside door flood barrier provides a simple flood protection solution suitable for all premises.
Applicable to a huge variation of openings and requirements, the system has no width or height limitation due to its modular nature. The bespoke feature of demountable middle and corner posts allows our door flood barrier the unique ability to suit any door or opening.
Representing the most robust form of flood protection, the barrier's  interlocking design combined with the discreet ground U channel ensures a continuous watertight seal.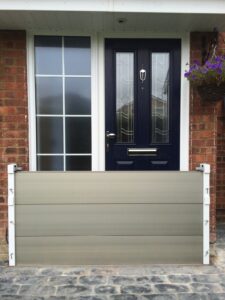 Our demountable door flood barrier has been engineered to minimise the effects of floodwaters, keeping you premises safe from the devasting effects flooding can cause. The main features include:
User-Friendly and Easy to Install: Our door flood barrier is made from aluminium, which means it is extremely robust but lightweight making it easy to install. Self-installation takes seconds with just one person required for deployment and no tools needed. When the system is no longer required, it can be easily removed and stored away.
Low Maintenance: The door flood barrier's anodised finish means it is maintenance-free and has a design life of over 50 years.
Rigorous Testing: The Lakeside door flood barrier has undergone thorough and accurate testing. Withstanding force of up to 7.92 tons and tested up to 2.1m with zero leakage, our door flood barrier has proven to work in real-life floods. The door flood barrier has been tested to the new British Standard as well as the Northern Ireland Department of Infrastructure and has been approved for use under the Environment Agency 2018 Framework Specification.
Versatile: Whether your premise is residential, commercial or industrial, the door flood barrier's versatile design allows it to be suitable for all types of properties.
The Effects Of Flooding Without Door Flood Barriers
It is impossible to eliminate the risk of flooding completely, but it is important to reduce the risk of water getting into your home or business. Without appropriate protection, your property is vulnerable to harmful effects that could have a devastating impact on you, your home, business or premises.
Structural Damage: In extreme cases not only does flooding destroy the fixtures, fittings and contents of your property, it can also impact the structural integrity of the building. When water gets into your premises, it could cause a detrimental impact to the property value and safety.
Health Hazards: Flood waters can contain chemical hazards, spread infectious diseases and carry bacteria that pose significant health risks.
Displacement and Disruption: Flooding can cause irreparable damage to any property or home. If your home is unhabitable, this could cause potential upheaval in finding alternative accommodation. Businesses can be affected by flood damage by losing stock, supplies and equipment. In some cases, businesses may not be able to trade until flood damage is repaired, resulting in the loss of contacts and customers.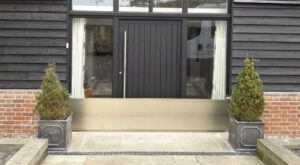 Door Flood Barrier Accessories
Lakeside Flood Solutions offers a wealth of tailored accessories for our door flood barriers. We want to ensure the most efficient and secure deployment of our door flood barriers by offering our customers storage solution choices, accessories and aesthetically appealing flood defence options to suit any home or business. Our door flood barrier accessories include:
Side Post Cover Plates: If you're looking to conceal your door flood barrier defence when they aren't needed, this is a great option. Manufactured from anodized aluminium that can be powder coated to any RAL colour, these side post covers completely hide the door flood barrier posts and all visible fixings.
Barrier Storage Racks: Available in vertical and horizontal formats, these wall-mounted storage solutions are designed for barrier profiles and middle posts.
Powder Coating: All elements of our door flood barriers are available to be powder coated to ensure a seamless aesthetic fit with the premise.
Top Lockable Pressing Clamps: The clamps are used to lock the barriers into place when the systems are in use.
Contact Us
Protect your premises with Lakeside Flood Solution's door flood barriers. We provide an unparalleled assurance guarantee that our products are of the highest quality. Get in touch to find out more about our flood defence systems and how we can help you.