Doorway Flood Barrier
Doorway flood barriers are essential devices designed to protect buildings and properties from the devastating effects of flooding. These barriers are specifically engineered to mitigate water ingress to doorways, which are often vulnerable points during floods. They are typically made of durable materials, such as aluminium, and are designed to be easily deployed and secured in place.
Doorway flood barriers create a robust seal around entrances, effectively mitigation water ingress and minimising damage to structures and valuable belongings. These barriers are invaluable in flood-prone areas, providing residents and property owners with peace of mind and a reliable defence against the destructive force of rising water levels.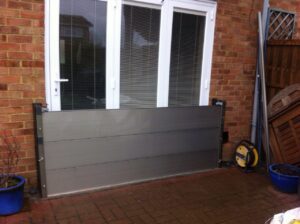 When it comes to doorways or entryways, we provide effective Demountable Doorway Flood Barriers that can be attached to any type of doorway to minimise the risk of flooding. A demountable flood barrier can be a wonderful option for residential, commercial, and industrial locations that have flood warnings and property that needs protection because it has a water-tight seal, is lightweight aluminium, and is user-friendly. This is the best option for Doorway Flood Barriers as they are adaptable and suited for any openings, including single doors and entryways.
Find out more about our Flood Doors
Key Features & Benefits Of Our Doorway Flood Barrier
Easy Installation: Our Doorway Flood Barriers at Lakeside Flood Solutions are designed with user-friendliness in mind. Effortlessly install them before a flood event, providing you with rapid protection when you need it most. There are no tools required for easy and quick deployment within minutes.
Customisable Sizing: We recognise that each property is unique. Our flood barriers come in a range of sizes to fit your specific doorways, ensuring a tailored fit for maximum efficiency.
Durable Materials: Crafted from robust materials that are built to withstand the harshest conditions, our flood barriers are engineered for longevity and repeated use.
Quick Deployment: With intuitive design and easy-to-follow instructions, you can have your Doorway Flood Barriers in place swiftly, giving you a sense of security in moments of crisis.
Minimal Maintenance: Our Doorway flood barrier is low-maintenance, so you can have peace of mind knowing that you're prepared without the hassle of constant upkeep.
Why Choose Lakeside Flood Solutions For Doorway Flood Barriers?
We have 35 years of experience in the door and security industry, and we are leaders in the provision of highly engineered flood defence systems. Our team of professionals install our products to protect buildings, homes and people from flood events and fire risks. We work with many different sectors to provide safety to properties; architects, commercial and industrial premises, environmental consultants, government, and local authorities and more…
Our products are cost-effective and essential for certain locations that are prone to flooding. Our designs are effective and our doors and other defence systems are reliable, meaning you can rest knowing your buildings are protected to the most optimal level of resilience possible during extreme weather conditions. Our products are versatile and adaptable, so unique buildings and areas with varying flood hazards are all suited to our services. Whether you are looking for your home, your office building or a manufacturing site, there is a doorway flood barrier solution for you.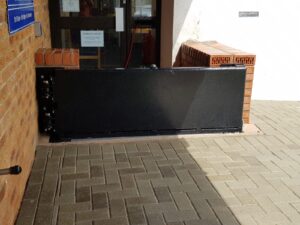 Other Flood Defences We Provide For Commercial, Residential And Industrial Properties
As a leading Flood Defence Provider across Europe and Asia, we specialise in manufacturing, supplying, installing and maintaining of all our products and services. Alongside Doorway Flood Barriers, we also provide a range of other flood defences to minimise the risk of flooding for your commercial or residential property. These include:
Contact Us
Get in touch with our team today for more information on the best options for your property and see our products sheets on our website for the designs and styles of flood doors.
We also have brochures on commercial and residential products you can download.