Glass Flood Walls
Glass Flood Walls are innovative and visually appealing structures that offer protection against flooding while maintaining transparency and aesthetic appeal at Lakeside Flood Solutions. These flood walls are constructed using specially designed glass panels that are engineered to withstand the pressure and force of rising water levels. The transparent nature of these walls allows natural light to pass through, preserving the open and spacious feel of the surrounding environment.
Glass flood walls serve a dual purpose by providing flood protection and enhancing the visual appeal of buildings, making them ideal for areas where aesthetics and flood resilience are equally important. They are often used in urban settings, waterfront properties, or areas with scenic views, allowing residents and visitors to enjoy unobstructed views while ensuring their safety during flood events. These glass flood walls are a testament to the advancement of flood protection technology, blending functionality and beauty in a single solution.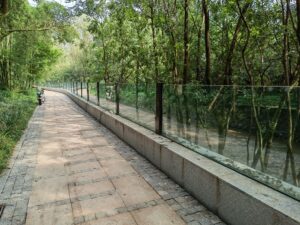 Flood Protection with Glass Flood Walls
Glass Flood Walls are perfect flood defence solutions for river sides, commercial buildings, residential properties or apartments, waterfront houses, and hospitals or emergency services. They offer protection against floods and debris, as well as protecting buildings from damage and water pressure. At Lakeside Flood Solutions, we offer many flood barrier solutions, but Glass Flood Walls are perhaps the most aesthetic design. Without obstructing a view, flood glazing is a permanent installation that allows for discrete defence designs.
The transparency also allows for more light to enter the protected area which can be important depending on the surrounding greenery, landscapes, and visual appeal of buildings. The barriers can be customised to length and height with a standard glass thickness of 32mm with the option to increase this. Installing our Glass Flood Walls can be a money-saving investment in the long term as it will be protecting your property from damage, which may be irreversible or expensive to fix. Our glass flood defence is a brilliant option worth considering if you live in an area with high flood alerts or near the coast.
Unique Features Of Our Glass Flood Walls
The Aluminium 6063 posts that hold the glass panes in place have a high resistance to corrosion, meaning they'll last for a long time. The triple layers of laminated tempered glass, also mean they can withstand pressure without cracking. They are installed to have seamless visual fitting so that they work well with their surroundings, blending in without obstructing views. Waterproof seals are key for ensuring the efficiency of the Glass Flood Walls and once they're all installed, there's no maintenance required. You can have peace of mind knowing your flood defence barrier will protect your business, home, or community.
Our Glass Flood Walls can be integrated into architectural design or be incorporated into new construction projects. They can be freestanding or attached to buildings, making them a great option for versatile designs. You can download our brochures for more information on design and commercial or residential services.
See more about our flood glazing here.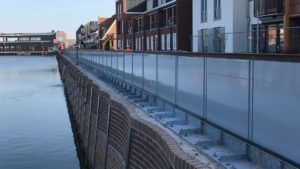 Why Choose Lakeside Flood Solutions For Glass Flood Walls?
We are the leading UK provider of flood defence products, offering our services nationwide and working with multiple industries and companies to bring protection to communities and infrastructures. Our Glass Flood Walls are reliable, durable and practical; our team are professional and experienced in providing the best service and safety check for all the products we install. If you are interested in our services, give us a call and we can discuss flood risk assessments, product designs, installations and more.
Any queries you have, we can answer. Call us today to learn more
Contact us
Contact us via our form or give us a call. We supply our products across the UK, around coastal areas where properties are more likely to experience floods.