How To Flood-Proof Your Home
Is your home prepared for the unexpected? In the wake of Storm Ciaran, and with heavy rain set to continue over the wetter winter months, it's essential to safeguard your home from potential flooding. Flooding can have devastating effects on your home and wreak havoc and disruption on your life.
As the UK's leading flood defence provider, Lakeside Flood Solutions has pulled together top tips on how to flood-proof your home; providing flood-proofing methods, strategies, and tools to offer you with peace of mind and ensure your property remains secure when flood waters rise.
Assessment and Planning
Before investing in measures on how to flood-proof your home, it's important to understand how and where flood water can enter your property. Understanding potential pathways which floodwater can infiltrate a property is crucial for homeowners to implement effective flood prevention measures.
Windows and doors, your home's gatekeepers, are vulnerable to the force of floodwater. Gaps around windows and compromised deals are common culprits, creating opportunities for water infiltration.
Another route for water to get into your property is through the sewerage system. In the event of a flood, these systems can become overwhelmed, and floodwater can get through drains and toilers, posing significant health risks.
If you're thinking about how to flood-proof your home, it's important to consider all potential risks – even the ones that don't initially come to mind as potential water entry points. Airbricks, whilst serving as a vital function in preventing issues like dampness and mould, can also provide a pathway for floodwater.
Doors and Openings 
When considering how to flood-proof your home most efficiently, a good starting point is to look at the doors and openings. At Lakeside Flood Solutions, we specialise in empowering homeowners to fortify these vulnerable points of entry. Our advanced solutions include flood barriers designed to stand resilient against the forces of water.
A demountable flood barrier provides a lightweight, quick, and simple flood protection solution suitable for all types of openings. From single doors to larger openings like roll shutter doors or driveways, the barrier has no height or width limitation.  The barrier also provides the most user-friendly solution with no tools required, allowing for deployment within seconds. The demountable flood barrier has provided countless homes with the ultimate flood protection.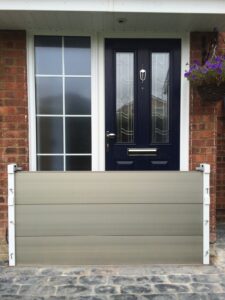 Bricks and Walls
Airbricks are designed to allow air to circulate beneath suspended floors in buildings. Often located near ground level, airbricks can become a potential floodwater entry point. To mitigate the risk of floodwater entering through airbricks, homeowners can consider installing flood-proof airbrick covers. If you're contemplating how to flood-proof your home, vent covers offer a paid-deployment option to prevent water from getting into existing air vents.
If you're looking for a more permanent solution, Lakeside Flood Solutions also manufactures anti-flood air bricks. These bricks are engineered to act like a standard brick in normal weather conditions, however when flood waters rise they automatically shut off., stopping flood water from entering your home.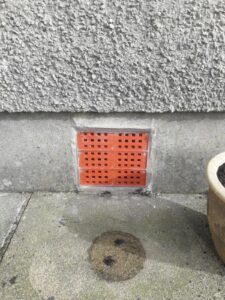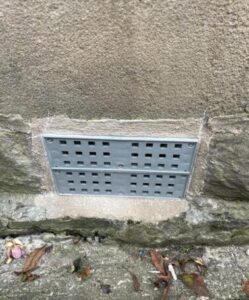 Sewage Defence
An important element when thinking about how to flood-proof your home is investing in advanced sewage defence systems. Our expertly engineered non-return valves and backwater valves stand as vigilant protectors, preventing sewage backflow and maintaining the integrity of your plumbing. A simple yet effective device, toilet bungs can be used to minimise sewage backflow through the toilet when a non-return valve cannot be fitted directly to the manhole pipe. Paired with state-of-the-art sump and pump systems, we can proactively manage excess water, swiftly mitigating the risk of flooding.
Trust The Experts
As the UK's leading provider in flood defences, and with years of experience in flood mitigation, Lakeside flood solution boasts a team of experts well-versed in the intricacies of home flood protection. When it comes to finding the right measures on how to flood-proof your home, our professionals bring a wealth of knowledge to every project, ensuring your home is fortified against rising flood waters.
We offer comprehensive protection, going beyond just individual components. Our holistic approach ensures that every aspect of your home is safeguarded against the diverse challenges posed by flooding. We offer our property flood resilience (PFR) service, which involves a free, no-obligation survey of your property, quotation, consultation and advice as well as ongoing maintenance agreements.
Contact Lakeside Flood Solutions For More Information About How To Flood-Proof Your Home
As the UK braces for a potentially wet winter, Lakeside Flood Solutions has the answers to all your questions about how to flood-proof your home. Our team of experts are available to provide invaluable advice and tailored solutions to ensure your home stands resilient in the face of flooding. Contact Lakeside Flood Solutions today.