Flood Defences For Homes
Are you worried about the safety and security of your home during flood seasons? Do you want to safeguard your property and belongings from the destructive force of rising water levels? Look no further! At Lakeside Flood Solutions, we are a leading provider of Flood Defences for homes, and we specialize in providing reliable and effective flood protection solutions tailored specifically for residential properties.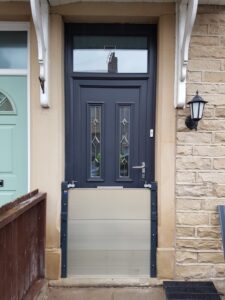 Expertise: With 35 years of experience in the door and security industry, we are the foremost authorities on flood defences for homes. Numerous flood protection projects have been successfully completed by our team of experienced experts, providing safety and peace of mind to countless homeowners.
Customised Solutions: Since every home is different, we provide individualised flood defence solutions to suit your particular requirements. Our experts will evaluate your property, taking into account elements like location, risk of flooding, and architectural features, to design a defensive system that is specifically suited to provide the best possible protection.
Cutting-Edge Technology: We stay up to date with the latest advancements in flood defence technology to provide you with the most innovative solutions available. From advanced flood barriers and water-resistant coatings to intelligent automatic flood barriers, we leverage state-of-the-art tools to keep your home safe and secure.
Reliable and Durable Products: We believe in delivering top-quality products that are built to withstand the toughest flood conditions. Our flood defences for homes are made from robust materials that provide long-lasting durability and resistance to water pressure, ensuring your home remains safeguarded during emergencies.
Seamless Installation: From early planning to final implementation, the procedure will be handled by our skilled installation team. We make an effort to cause as little disturbance to your everyday activities as possible, assuring a quick and painless installation process.
Comprehensive Support: Beyond installation, we remain dedicated to your pleasure. For your flood defence system to remain in top shape year after year, we provide full support services, including routine maintenance, inspections, and repairs.
Wide Range Of Flood Defences For Homes
We offer a wide range of flood defences for homes that are available in a variety of watertight solutions. Our most popular products include:
Demountable Flood Barriers: The Lakeside Flood Barrier is a portable, quick, and straightforward flood protection solution appropriate for all types of buildings. They are incredibly adaptable and appropriate for all kinds of openings and needs, from single doors to bigger openings like roller shutters or roads, up to temporary demountable walls to provide flood protection to entire villages or coastal areas.
Flood Doors: We specialise in a selection of flood doors that protect permanent 'automatic' protection, suitable to protect a variety of openings against flooding. A flood door is put in place to minimize water ingress to a building during floods. If your area frequently floods, this kind of system will be recommended to you so that it is ready for use when the next flood occurs.
Flood Gates: Our flood gates provide a reliable and efficient approach to protect homes from floods. Because they require little maintenance and are frequently controlled manually by a single person, they provide a quick deployment alternative. A wide range of locations, including residential areas, commercial structures, riverbanks, and utility infrastructure, can benefit from the use of flood gates. Because they are created especially for each customer, they are available in a range of styles and features.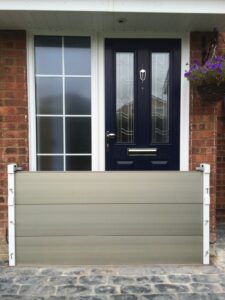 Service You Get With Lakeside Flood Solutions' Flood Defences For Homes
Here at Lakeside Flood Solutions, we are experts in flood defences for homes and other residential properties and offer a range of important services before and after purchase. When you choose our flood defences for homes, you are getting:
Flood Risk Assessment: To identify your property's susceptibility to flooding, we can organize an independent flood risk assessment. We take into account a variety of elements, including location, proximity to water sources, and historical flood data. This evaluation enables us to create a strong flood defence strategy by allowing us to better understand the specific hazards that your home confronts.
Flood Barriers: We provide and install high-quality flood barriers that act as a physical barrier against rising water levels. Our barriers are constructed from durable materials and are available in various types, including demountable barriers, inflatable barriers, and automatic flood barriers. These barriers are designed to withstand water pressure and minimize water ingress to your property.
Drainage Solutions: Proper drainage is vital for preventing water build-up around your home. We design and implement effective drainage systems that redirect excess water away from your property, reducing the risk of flooding and water damage.
Expert Installation and Maintenance: Our team of skilled professionals ensures the proper installation of flood defences in your home. We handle every aspect, from initial planning to final implementation, ensuring that the system is integrated seamlessly with your property. Additionally, we provide regular maintenance and inspection services to keep your flood defences in optimal working condition.
Professional Guidance and Support: We recognise that every home has particular needs. Our professionals will assist you at every step of the way, providing customised solutions and responding to any queries you may have. For the long run, we are devoted to offering support and assistance to make sure your home is safeguarded.
Don't leave your home vulnerable to the devastating effects of flooding. Contact us today to discuss how we can tailor our solutions to meet your specific needs when looking for flood defences for homes.
Protect Your Home Today With Our Flood Defences
Be sure to act before it's too late! The disastrous effects of floods can be avoided by protecting your house and your loved ones. For dependable Flood Defences for homes, get in touch with us right now to arrange a consultation with one of our specialists. We'll work together to develop a personalised flood protection strategy that will give you the security you deserve. Invest in solutions from the specialists in the field of flood defence to protect your home.