Flood Protection
When it comes to safeguarding your property against the ever-present threat of flooding, there's no better choice than Lakeside Flood Solutions. With a reputation as the UK's leading flood protection provider, Lakeside Flood Solutions offers a comprehensive range of flood protection items, including barriers, doors, gates, and windows, all designed to provide you with peace of mind and protect you from catastrophic damage flooding can cause to your property.
By choosing Lakeside Flood Solutions for flood protection, you're investing in the safety and resilience of your property. With our range of innovative products, a team of flood protection specialists, and dedication to defending your property, you can trust Lakeside Flood Solutions to protect what matters most when the waters rise.
Our Flood Protection Products
At Lakeside Flood Solutions, our extensive range of flood protection products is designed to shield your property from the devastating impact of flooding, ensuring your peace of mind in the face of nature's unpredictability. From robust barriers that keep floodwaters at bay to fortified doors, gates, and windows that stand as impervious defences, we offer an array of innovative solutions tailored to your property's needs:
We offer a diverse range of flood barriers designed to protect your property from the harshest of flood waters. Our demountable barriers provide a flexible and removable flood protection solution, allowing you to respond swiftly when the need arises. For those seeking a temporary flood protection measure, our barriers offer a quick and efficient defence that can be deployed with ease in emergencies.
The self-closing barrier offers peace of mind without the need for manual intervention, automatically activating when flood waters approach. Additionally, our Automatic Hydraulic flood barrier combines cutting-edge technology with robust engineering to create a highly effective, hands-free solution for flood protection. At Lakeside Flood Solutions, we ensure you have access to the right flood barrier for your specific needs, guaranteeing maximum protection and minimal stress in the event of a flood.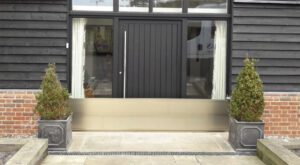 Lakeside Flood Solutions brings you a comprehensive selection of flood doors, each designed to offer unparalleled flood protection against rising waters. Our uPVC doors combine affordability and function, making them an excellent choice for many homeowners. For those seeking a balance of aesthetics and strength, our composite doors seamlessly blend style and security, offering a durable and visually appealing flood protection solution.
When it comes to the ultimate protection for your home or business, our steel flood doors stand as firm barriers, ensuring the most robust protection for your property. All our flood doors are a testament to our commitment to providing superior flood protection, allowing you to safeguard your property without compromising on quality or style.

At Lakeside Flood Solutions, we specialise in a range of flood gates which work as an effective, rapid-deployment flood defence measure. Ou Aluminium flood gates, known for their lightweight yet robust construction, offer a practical and dependable solution for many applications. Our Aluminium flood protection gates are suitable for a huge range of different premises including residential developments, business units and commercial properties. For a sleek choice that is corrosion-resistant, our stainless-steel flood gates are engineered to withstand the harshest elements, ensuring long-lasting protection. Best suited to residential driveways or pedestrian openings, our timber flood gates offer the highest-quality flood protection whilst maintaining the existing aesthetics of your property.
Other Flood Protection Products
Lakeside Flood Solutions goes beyond traditional flood protection measures, offering a comprehensive suit of innovative solutions designed to fortify your property against the threat of flooding. Our flood glazing crystal-clear protection, combines aesthetics with resilience to shield your space from water infiltration and allows for unobstructed views of local landscapes in areas most at risk of floods. We also supply a range of bespoke flood windows in either Aluminium or uPVC.
We also provide a wide range of brick and wall defence solutions to prevent water from entering through air bricks, and vent openings as well as passive flood protection measures to prevent water seepage through walls. Additionally, our chemical containment and sewage defence solutions are meticulously designed to protect both the environment and your facility, ensuring dangerous materials stay contained.
 Contact Lakeside Flood Solutions Today!
Protect your premises with Lakeside Flood Solution's rang of flood protection products. From barriers to doors, gates and windows, and a host of other specialised solutions, Lakeside Flood Solutions has got you covered. Get in touch to find out more about our flood protection and how we can help you.